Safety
Safety is paramount to us, and our employees, and it shows in our excellent safety record and stellar workplace attitudes. We continually invest in safety training and promote safety through various programs and with the guidance of our full-time Safety Officer. We demand that all OSHA regulations be observed and maintained as the minimum standard for our employees and all subcontractor employees. We strive to create a culture that lends itself to proactive actions at all levels. This attitude is driven down from the ownership level through supervisors and finally to the "greenest" employee in the field. Every employee understands that they have the right to Stop Work for any situation that is unsafe or exhibits some level of risk.
---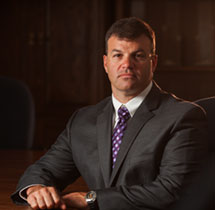 About Our Safety Officer, Eddie Evans
Our safety officer, Eddie Evans, is a Certified Safety and Health Manager (CSHM) by the Institute for Safety and Health Management (ISHM) and a Certified Safety Professional® (CSP®) by the Board of Certified Safety Professionals (BCSP). For 2014-2015, Evans will serve as the President of the North Alabama chapter of the American Society of Safety Engineers (ASSE), and he will chair the Safety Committee of Associated Builder and Contractors, Inc. of North Alabama (ABC North Alabama) for the fourth consecutive year.
---
Experience Modification Rate vs Time with Negative Trend-line Visible
Total Recordable Incident Rate vs Time with Negative Trend-line Visible
---
Safety Training
Our safety training efforts include structured initial orientation courses, tool box safety meetings, hazard communication training, and other special training sessions. All of our employees are trained and oriented before they start working on a job site. We utilize safety programs provided by the Tennessee Valley Training Center (TVTC) for basic safety training and certifications, as well as an annual safety training program to allow employees to keep their safety training up to date.
OSHA training stats:
OSHA 10 Hour: 43% of Workforce
OSHA 30 Hour: 31% of Workforce
74% of employees exposed to hazards have been trained in one of the two OSHA classes.
The areas of training include:
General Employee Safety
Hazard Communication and Chemical safety
Personal Protection Equipment
Respiratory Protection
Hearing Conservation Unit
Electrical Safety for non-qualified workers
Elevated Work Areas
Process Safety Management
General Rules and Emergency Response
A number of additional training topics are covered on an as needed basis.
These topics might include:
Aerial Lift Certification
Powered Industrial Truck Certification
First Aid and CPR Training
OSHA 10 hr and OSHA 30 hr
Hand Safety
Specific Power Tool Training
Confined Space Entry Training
Other Various OSHA Mandated Topics