Field Layout Technologies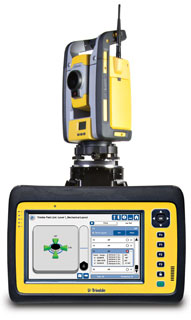 With the technologies of tomorrow being utilized today, M&D Mechanical is playing a key role in growing into a very competitive business within the BIM environment. After becoming extremely efficient coordinating our 3D models with opposing trades and developing highly accurate shop drawings for the field personnel, M&D can now take our Building Information Modeling (BIM) expertise to the next level by utilizing the newly acquired Trimble Robotic Total Station. This laser guided positioning tool allows the transfer of 3D positional data to the field digitally, increasing productivity and accuracy by improving layout processes of the mechanical systems.
Once the placement of critical MEP points for ductwork and piping have been entered into the cad software users can download formwork and structural locations (x, y and z coordinates) directly to the Trimble Total Station. The download of edge lines and centerlines of ductwork and piping assist field personnel in properly positioning and placing equipment.
This provides a high-level of process and workflow integration from the design coordination phase through the finished product, delivering significant improvements of installation techniques throughout the building construction lifecycle. With the use of the Trimble RTS Series Robotic Total Station the field personnel can precisely locate duct and pipe hangers, duct and pipe sleeves for wall penetrations, underground pipe supports, and equipment housekeeping pads in a fraction of the time compared to conventional methods.
---
Photo Gallery