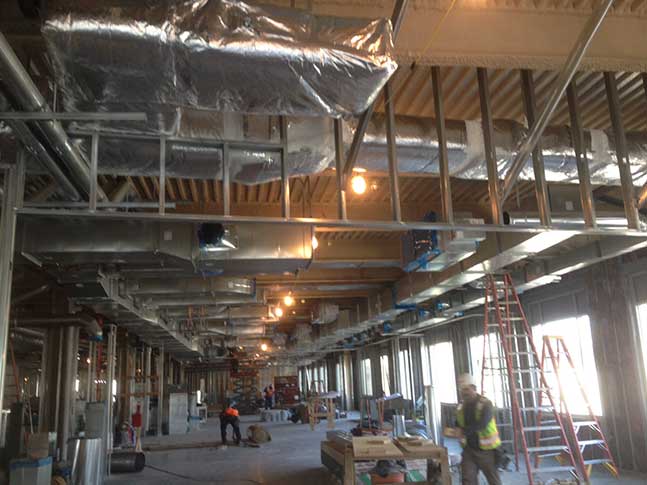 The Twickenham Lab Relocation Project is a fit-out of two (2) floors, each approximately 10,000 sq/ft in size, for the Huntsville Hospital System. The M&D Scope of work includes furnishing HVAC Duct, Mechanical Piping, Plumbing (including an Acid Waste System) as well as specialty systems such as DI Water and Med Gas.
As the project is a fit-out of an existing building shell that is located within the densely developed Huntsville Hospital campus, material flow was a known obstacle during the planning stage. Additionally, an overall project time-frame of seven (7) months added urgency to the complexity of the project. A material delivery plan that utilized the field personnel's experience, talent and willingness to step up to the project's challenges would be key to completing the rough-in phase on time.
The result has been a good amount of pre-fabrication, careful attention to man-power phasing, and therefore a cautiously optimistic outlook to the project overall. Moreover, because of the proactive mentality of the project's Superintendent, Foremen and tradesmen; M&D crews have been able to maintain the project schedule with only a fraction of the previously planned workforce available due to other crucial projects taking place at the same time.
Currently, the project is moving towards the trim-out phase as the installation of studs and sheet rock are nearing completion. And while the project still has several challenges that will require the proper approach, with the M&D field personnel leading by an example of proactive planning and pre-fabrication techniques, they are off to a great start.